How Vendor Finance Prepares Your Finance Proposal for Underwriting
Preparing your Finance Proposal
When seeking finance for purchasing an asset, understanding the underwriting process is essential for a smooth and successful transaction. Vendor Finance is committed to ensuring that your finance proposal is well-prepared and positioned for approval. This post will outline the detailed method of how Vendor Finance prepares your finance proposal for underwriting, ensuring it stands the best chance for approval. The assessment of the application focuses on four crucial areas: Rationale, Credit, Asset, and Track Record.
Rationale
The first step in how Vendor Finance prepares your finance proposal for underwriting involves understanding the reason behind the asset purchase. Clear communication on why you are purchasing the asset allows the underwriters to make a better-informed decision. Whether it's for an upgrade or required for a new contract, outlining the specific need for the asset purchase plays a significant role in the approval process.
Credit Assessment
Assessing your financial capacity is crucial in preparing your finance proposal. Vendor Finance carefully reviews your bank statements to ensure you have the financial capability to undertake a new finance agreement. An in-depth assessment is conducted to check for any unpaid Direct Debits, overdraft limits, and other credit-related issues.
Asset Evaluation
Another critical aspect of preparing your finance proposal is the evaluation of the asset you intend to purchase. Vendor Finance examines whether the asset is new or used, as this influences the maximum loan term you can get. An assessment of the resale value at the end of the finance agreement and the type of dealer, whether franchise or independent, is also conducted. These factors contribute significantly to the underwriting decision, making them essential elements in preparing your finance proposal.
Track Record
Your credit history is a decisive factor in the preparation of your finance proposal. A clean credit history, or a clear demonstration of steps taken to rectify any credit issues, is crucial for the approval of your finance application. Vendor Finance meticulously examines your credit history, ensuring that there are no ongoing credit issues that could hinder the approval process.
Here is a video explaining the process by our founder Hugh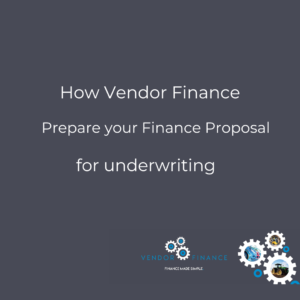 Don't forget you can apply for finance here