Quad Finance Ireland
Need financing solutions for commercial quads?
At Vendor Finance we have a range of finance solutions for quads & utility vehicles. Our nationwide commercial finance service means that wherever you are in Ireland, we have a financial expert who can meet with you to facilitate your finance request and ultimately, the signing of your finance agreement.
We can arrange competitive funding solutions and finance options including Hire Purchase and Leasing for new or used quads & utility vehicles, each offering a variety of terms.
A quad, all-terrain (ATV) or utility vehicle is a four-wheel powered vehicle which is generally designed for off-road use e.g., farms, purpose-built tracks etc. but are you aware of the impending introduction of new legal requirements for quad bike users next year?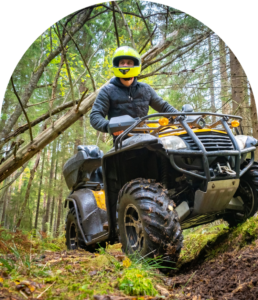 Currently, if used on a public road (which includes footpath), quads are subject to all of the regulatory controls that apply to other mechanically propelled vehicles (MPVs) – they must be roadworthy, registered, taxed and comply with all regulations mentioned below. Furthermore, a licence is required to drive a quad on the public road – the type of licence depending on the weight and power of the quad bike.
However, from 2023, the Health and Safety Authority (HSA) has advised that mandatory training and helmets will become a legal requirement for all quad bike users.   At their stand at this year's National Ploughing Championships, the HSA focussed on the important safety regulations around quad bikes and ATVs, which included the introduction of compulsory helmet wearing and training for operators.  Speaking at the Ploughing Championship, Dr Sharon McGuinness – HSA Chief Executive Officer, said the focus on Quad Bike regulations is timely as there is just a 12-month period where farmers will need to ensure they are trained quad bike users and wear an appropriate helmet when operating the vehicles.
For more information on this, and for general information on the safe use of Quad bikes, ATV's and utility vehicles, check out this article from the HSA:  
https://www.hsa.ie/eng/Publications_and_Forms/Publications/Work_Related_Vehicles/Safe_use_of_Quad_Bikes_in_Agriculture_and_Forestry.81364.shortcut.html 
If you are looking to purchase a quad, ATV or utility vehicle (new or used), and are unsure how to finance it, then get in touch with Vendor Finance today! We are the number one name for Quad Finance in Ireland. We can assist you in accessing the full range of quad lenders within the Irish market – all with one short, simple application form. 
Terms generally fit from 3 to five years with 100% finance available. We can offer seasonal payments supporting farmer's cashflow and quad & utility vehicles are available for business use.
Apply today by clicking here  or call us on (071) 931-0137 and we'll take your application right over the phone.