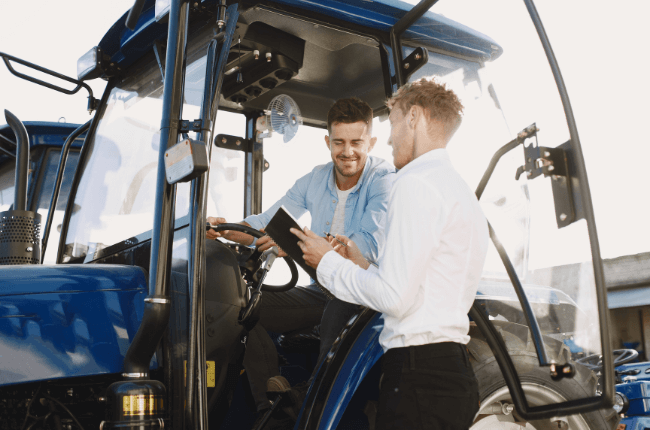 Agri Dealers: 7 reasons to partner with a finance broker
At Vendor Finance, we work with commercial agri suppliers/dealerships across the country to help provide their customers' with easy access to finance. We offer flexible and competitive repayment plans to support farmers and SME Agri Businesses and by giving customers easy access to finance, you not only improve their customer experience, it boosts your bottom line by allowing you to close sales faster.
If you're looking to improve your commercial agri business, it's in your interest to partner with a finance broker like Vendor Finance – here's why!
1. Get access to a wider range of options
At Vendor Finance, we work with a panel of top-tier lenders – and your customers get access to all of them through one single application form. Our lenders offer a full spectrum of finance options & rates, giving your customers access to finance options on older assets, such as used tractors or balers, which they may not have access to through traditional main street banks.
2. Less hassle means more time to focus on your business
We take full control of the finance process and transaction, taking care of all the paperwork and working directly with your customer, allowing you more time to focus on your business. Our system applies market leading technology and is designed to keep you in the loop in real time, 24/7 on the status of your customers' applications.
3. We place customers with their 'best fit'
Our in-depth knowledge of the financial landscape and our lenders allow us to place your customers with the lender that best fits their needs.. This saves time by eliminating the need to prepare and submit multiple applications and Increases your customer's chances of securing finance first time round. All of this means you close sales faster and allows you to focus on running and growing your business.
4. We support your customer
We work directly with your customer and handle the entire finance application process, which means they can get on with the daily running of their farm with minimal interruptions. A fast, easy finance process reflects well on you and a happy customer will tell friends & family about their positive experience!
5. We will meet the customer to sign paperwork
We have a nationwide network of reps, who will meet with your customer, in person, to sign paperwork, at a time and location convenient to them.
6. Seasonal repayments geared toward agri finance
Agri finance operates a bit differently than other commercial sectors, and our lenders know this well. We offer seasonal repayments through our lending options, all designed to suit agri customers and their income streams.
7. Secure payments on time from trusted lenders
Working with Vendor Finance cuts out any uncertainty about working with a less-than-trustworthy lender. You will always get your payments on time from our trusted lenders, which takes away the worry of when you'll receive funds from your sale.
Partnering your agri business with a financial broker will boost your bottom line, and keep your customers happy. It's a no-brainer! When partnering with Vendor Finance, you can trust that we will do everything we can to support you and your customers. Ready to get started? Click here: Let's go!